5.1 Down the Slippery Slope
— A Stroll down the Slippery Slope —
Long Before Einstein
Various religions and philosophies stated long before Einstein that reality exists only between two or more observers (see Matthew 18:20 for instance). But that may pose a problem to some: If a man walks into a forest and no one can hear him or see him, does he still exist?
The answer lies in the careful defining of the man and his existing. The man does not need to be observed by a human being to be recognized. Any animal can do the honor, and the man is there. For the man to be Pavarotti or Freddy Heineken however, someone who knows about these men is required. Or else this private identity remains private and is indistinguishable from a delusion.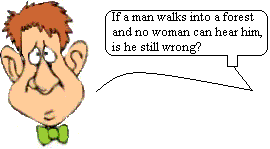 Back to the forest-walking man: If there is no cultivated human around, any celebrity is going to be just another friendly face. If there is no intelligent creature around, the man is going to be just another animal. If there is no living thing around, the man is going to be just another hunk of matter and stones will feel him by his gravitational pull.
If you happen to be a brilliant piano player but no one has invented a piano yet, you're probably just another worker in a workman's army. Maybe years from now your present colleagues will wallow in their shame when they finally recognize you for who you really are: the piano player they wouldn't let you be.
Reality
Reality does not mean 'things that exist,' but 'things whose existence people agree on.'